How Can I Get A Tennis Permit in New York?
In the summer time, I always want to go outside and enjoy as many sport activities as possible. With the recent televised history making Wimbledon Tennis Tournament, and the French Tennis Open Tournament previously, your thoughts may have turned to Tennis. Tennis is a great sports activity that is available and easily accessible for everyone in New York City. Many people may not be aware that New York City has 96 Tennis courts spread throughout the 5 boroughs. Many Tennis players consider the Central Park West Tennis courts to be the Mecca of all NYC Tennis courts. These courts are located at 96th Street from the Central Park West entrance. At these courts, you will find the full spectrum of Tennis players from beginner s, hackers and celebrities along with the full fledged Tennis fanatics who play Tennis all the time. There are 30 courts: 4 hard courts and 26 fast dry composite courts. Tennis lessons are also available from a licensed professional.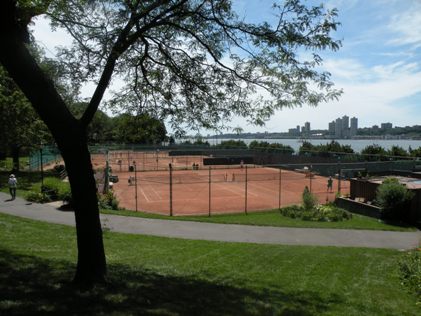 For Tennis enthusiasts who are interested in playing Tennis on clay courts, they can find 10 clay courts at Riverside Drive and 96th Street. Tennis lessons are also available from a licensed professional. These courts are found parallel to the Hudson River with spectacular views downtown to the south and the George Washington Bridge towards the north. A short walk downtown along the river will take you to the Boat Basin Cafe (212-496-5542) overlooking spectacular views along the river which you can enjoy while you eat.
What will a Tennis permit cost so that you can play on all these courts for the year? Effective for the 2011 season, tennis permits for adults are $200. Seniors pay $20 and if you are under 18 years old, the permit costs $10.
Applying for a Tennis permit can be very easy. If you have access to a computer, you can obtain an application form at permits_and_applications/tennis_permits_renewals.html">nycgovparks.org. There are two ways that you can obtain your permit:
By Mail. You can mail the filled out application, a passport size photo, and a check or money order to one of the following permit locations:
| | |
| --- | --- |
| | |
| Manhattan Permit Office | Paragon Sporting Goods |
| 830 5th Avenue | 867 Broadway and 18th Street |
| The Arsenal, Room 1 (Basement) | (212) 255-8036 |
| NY, NY 11215 | Monday - Saturday 10AM - 8PM |
| (212) 360-8131 | Sunday 11:30AM - 7PM |
| Monday - Friday 9AM - 4PM | Paragon Sporting Goods will NOT |
| Saturday* 9AM - 12PM (*April - June) | issue or renew permits past 30 |
| *This location also accepts cash | minutes prior to closing time. |
| | |
| | |
| Bronx Permit Office | Queens Permit Office |
| 1 Bronx River Parkway | Lost Battalion Hall |
| Bronx, NY 10462 | 93-29 Queens Boulevard |
| (718) 430-1838 | Rego Park, NY 11374 |
| Monday - Friday 9AM - 4PM | (718) 263-4121 |
| | Monday - Friday 9AM - 4PM |
| | |
| | |
| Brooklyn Permit Office | Staten Island Permit Office |
| Litchfield Villa | Greenbelt Recreation Center |
| 95 Prospect Park West | 501 Brielle Avenue |
| Brooklyn, NY 11215 | Staten Island, NY 10314 |
| (718) 965-8914 | (718) 667-3547 Ext. 312 |
| Monday - Friday 9AM - 4PM | Monday - Friday 9AM - 4PM |
| &nbsp | &nbsp |
In Person. You can also obtain your permit by visiting one of the locations above in person. The Permit office can take the photo for the permit free of charge. At Paragon Sports Goods, you can buy your Tennis balls, apparel, rackets and you can buy your Tennis permit at the same time. If you want more information, you can call the phone number provided for the location nearest you.
Tennis Courts are available in all five boroughs. There are many tennis courts easily accessible in each borough. Queens has the most tennis courts with 29 outdoor locations. In the Bronx, you can play at 11 outdoor locations, and in Manhattan, there are 11 outdoor locations. In Brooklyn, there are 22 outdoor locations and Staten Island has 5 outdoor locations. The number of courts at each location varies with an average of 6 or more courts at most locations. Tennis lessons by a licensed professional are available at many of the locations. A complete list of the court locations is available online at nycgovparks.org or you can call (212)360-8245. The Tennis playing season is in full swing right now and the season will continue to the third week of November. The NYC Public Tennis courts are just waiting for you and your friends not far from home. Enjoy.
— Bill Rico for allny.com