Q: What is a New York water taxi?
A: NY Water Taxi is a big yellow boat that looks like, well...a taxi. If you're hoping to flag down a floating cab by waving your handbag, though, you're out of luck. This taxi operates on a fixed schedule, more like a city bus.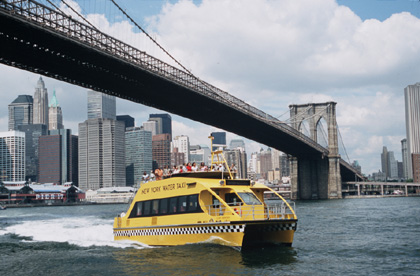 New York Water Taxis operate 74- and 149-passenger boats, and run on a few different commuter and New York City sightseeing routes, lugging both tourists and locals around the New York Harbor. A popular option for tourists is the "hop-on/hop-off" water taxi ticket, which lets you jump off at any stop, wander around, and climb aboard a later water taxi with a one day ($20) or two day ($25) pass. You can also book a one-way ticket between any of the stops for a measly $10, or commute to and from Wall Street or the World Financial District with individual tickets or a monthly pass. The boats pull into port at various points from 44th Street on the west side of Manhattan to 34th Street on the East River (some sightseeing routes stop along the way in Manhattan, Brooklyn and Queens, and one commuter line runs up to Yonkers).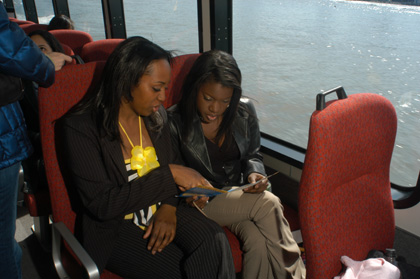 New York sightseeing rides sweep through the highlights of the harbor and offer great photo ops at the Statue of Liberty. Along the way, trained guides share info on the history of the bigger focal points (Empire State Building, Wall Street landmarks) and insight on important current events (pointing out Mary Kate and Ashley's new pad). The company also offers seasonal excursions, like a New Years Eve Cruise, Fall Foliage Cruises, and Sunset Cruises.
The New York Water Taxi's biggest bonus: The relaxing ride is great for showing off the Manhattan skyline and New York City sights to out-of-town guests without dealing with congested traffic (or burning a hole in the sole of your kicks).
The New York Water Taxi's biggest flub: The schedule can't always be trusted. Arrive early and ask questions.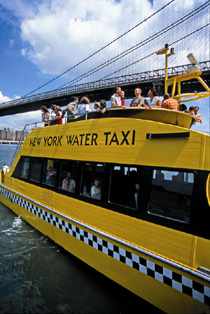 New York Water Taxi Tip: The top deck is the most fun. Try to get near the front of the line to get a great seat.
New York Water Taxi stops:
West 44th St., Pier 84
Chelsea Piers, Pier 66
Christopher St., Pier 45
World Financial Center
Battery Park, Slip 6
Governors Island
Joralemon St.
Red Hook, Van Brunt St.
Brooklyn Army Terminal
Wall St., Pier 11
South Street Seaport, Pier 17
New York Water Taxi Fast Facts:
Hop-On/Hop-Off Cruises run in warmer months (generally from mid-April to mid-October).
There is no service to upper Manhattan.
The boats operate on seven regular routes—check nywatertaxi.com for up-to-date route and schedule information.
Commuter lines are offered during rush hours, serving the East River, South Brooklyn and Yonkers.
You can charter a water taxi for a private party (yep, there's a bar).
You can hitch a ride to any Mets home game for $20.
On the weekend hop-on/hop-off line, it takes about 1.5 hours to get from West 44nd Street to Water Taxi Beach in Queens.
Lower prices are available for the kiddos.
— Erin Walters for allny.com