New York City Cheap Hotels
Why Cheap Hotels in New York Make Sense
You want to see New York City, not the inside of a hotel room; be smart, go on a budget.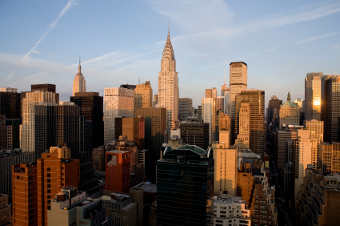 When you think of New York City, you think of Broadway Musicals, Times Square, Fifth Avenue shopping, Central Park, the Statue of Liberty, and countless other incredible sights and wonders. What people do not remember is the inside of their hotel room. People do not arrive home looking forward to showing their pictures of the bedspread from their hotel room. They show the pictures of the places and sights they saw. Spending less in your hotel room is not going to mean that your trip to New York City is anything less than spectacular. But it might mean you have more money in your pocket that you can spend on places and sights which will truly make your trip something to remember. Staying at cheap hotels in New York City makes sense because:
Budget hotels have the same high standards as the high-priced hotels
A budget hotel does not mean that you will end up at some place where the light bulbs are burnt out and it reeks of the former occupant. It means that you can decide to pay $50-$100 less than you would have otherwise spent for a hotel where you have all the basics you need -- clean beds, access to a bathroom and shower, a television and Wi-Fi access, and in some cases a small kitchenette. If you are going on vacation to New York City, then what more do you really need? Sure having a spa in the hotel would be nice, but instead of spending your time getting a massage, you could be out seeing the sights. If you are going to New York City to actually see New York City, then staying in cheap hotels in New York City will provide you with all the amenities you need to have a great time and get the all the rest you need in between your fun-filled days and nights.
Budget hotels are safe
Obviously, there a few exceptions to this rule and you need to be careful when choosing the location and type of your accommodations. Hotels are in business to make money. They will only continue to make money if they maintain a reputation for being safe. Word gets around quickly, especially on the web, and the last thing a hotel wants is for travelers to deem them as an unsafe place to stay. In addition, while most hotels screen their employees, it is still a good idea, no matter the price of the hotel, to keep valuables locked in the hotel safe. You need to protect yourself from any unsavory cleaning help and having to make any accusations that you cannot prove. By taking the same safety precautions that you would take at any hotel, regardless of price, you will be as safe and snug at a budget hotel as you would a pricey one.
Budget hotels have character
Hotels have to offer incentives for you to pick them over someone else. Therefore, there are many cheap hotels in New York City which offer something unique which makes staying there that much better. For example, by virtue of their smaller size, some are located in more flavorful neighborhoods with a more authentic flair. Others offer unique accommodation choices such as dormitory-style rooms which allow families and groups to stay together and enjoy their trips in each other's company. Furthermore, some offer unique continental breakfasts such as a traditional New York City bagel breakfast. Going budget does not mean that you have to give up style or flair. On the contrary, many New York's budget hotels can be a good experience when you visit exciting New York City.
NYC Budget Hotels - Super List