Cheap Hotels in NYC
Now is the Time for Great Deals on Cheap Hotels in NYC
Now is the time to take advantage of great savings on a hotel room in New York City!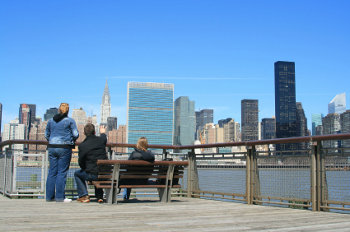 New York City is one of the most popular destinations in the United States. Everyone should visit New York City at least once. To take full advantage of what New York City has to offer, you really should visit many times. Along with Broadway, Central Park, Fifth Avenue, Wall Street, New York has so much more to offer everyone. New York City is a great place to visit any time of the year. However, with fluctuating fuel prices and the economic downturn, many hotels are struggling to fill their rooms. The good news is that Hotels are offering great discounts. If you have not traveled to New York City before, now may be the best time to do so with prices so affordable.
Don't put off until tomorrow what you can do today!
Prices have dropped to extremely affordable rates. A quick search of several travel sites produced many options on hotels for $150 per night or less. For example, on a site called Just New York Hotels you can find many options to fit the budget and needs of practically any traveler. They are offering some last minute deals on hotels in just about any location in the city and with unique amenities such as LCD TVs and dormitory-style rooms to accommodate larger families or groups.
Some hotels are offering discount tickets to Broadway shows or museums or restaurants just for booking with them. This will allow you to not only save money on your room, but your activities as well. They are providing great incentives to get you to look their way. However, don't wait too long, because these deals may end soon.
Look for unique alternatives to enhance your experience.
Hostels are a great way to go if you are just looking for a place to rest your head. After all, you're there to see the sights and sounds of the Big Apple and NOT the inside of your hotel room. Hostels are for the budget-conscious traveler who would be willing to possibly share a room with strangers and/or share a bath or kitchen. Hostels are favored by the "backpackers throughout Europe" types. Hostels are usually filled with people just as interested in seeing the sights as you are. With prices on hostels starting at $13 no one can say New York City is just too expensive. If you are the adventurous, independent type who enjoys socializing with other people, a hostel might be the way to go.
Another option to check out is a Bed and Breakfast Inn. When you think of these types of inns, you generally think of a quaint, rural setting with a cozy bed and breakfast nestled somewhere in the picture. Well, believe it or not, New York City has many Bed and Breakfast Inns offering great rates! They are struggling as much, if not more, than the major hotels and are offering large discounts. A B&B offers a more homey feel and yet can be just as well located as any of the major hotels.
This is the chance of a lifetime.
Sometimes we shy away from New York City thinking it's probably too expensive. Not so, right now. With people spending less on luxuries, now is the time to take advantage and go on that trip you have always wanted. In a few years, when the economy has come back and prices have gone sky rocketed, you will find yourself wishing that you had taken that trip to New York to see that Broadway play you had always wanted to see. Do not let this chance pass you by. Check out the great deals online and grab the great deal that is just waiting for you.
NYC Budget Hotels - Super List