New York Cheap Hotel Guide - Great NYC Hotels That Won't Break Your Bank Account
You want to go to New York City, but you don't want to spend a fortune on your accommodations! Then this New York Cheap Hotel Guide is exactly what you need.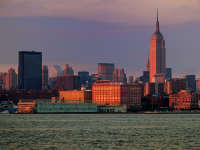 After all, you will not be seeing the City from your hotel room. You will be out and about only stopping at the hotel to sleep. Therefore, you want a room where you can feel safe and relax, but not a room so fancy that you feel guilty leaving.
If staying at any hotel in New York (cheap hotel or otherwise) ends up being out of your price range, you still may be in luck: NYC offers a number of Hostels as well. It is much better to spend your money enjoying the city instead of an expensive hotel. Here is a guide to some of New York's cheap hotels that are great to stay at:
With rates starting at $99 the Chelsea Savoy Hotel offers a great deal on a room for four people. It's close to several subway stops and is conveniently located near several good clubs and restaurants. All rooms have private baths and a continental breakfast is offered.
The Milburn is located in a family-friendly neighborhood on the Upper West Side and is a New York cheap hotel that doesn't feel cheap. The rooms have Wi-Fi access and by staying there you have access to an indoor pool just one block away. The rooms have small kitchenettes which will save you money because you can prepare some of your own food or can store leftovers from restaurants. The rooms are sized for four people, and there is no extra charge for children staying with their parents.
If you're okay with sharing a bath, The Larchmont is another good possibility. Located in the West Village, this hotel is located in a good neighborhood and is a great value. Your room does have its own sink and robe with full baths located in the hall. Each room has a kitchenette as well which will allow you to save money on food. They also offer a continental breakfast as well.
The Marcel is another good possibility for those on a budget. The rooms are on the smaller size so if you are traveling with your family, this might not be the place for you. However, all the rooms are clean with private baths. One unique feature is the traditional New York City bagel breakfast served daily. Each room also has a cd player, on-demand movies and the hotel offers room service as well.
If you are looking for a New York City "experience," The Gershwin just might be the place for you. This hotel is frequented by international travelers and has a unique vibe to it. In addition to the private rooms available, The Gershwin also offers dormitory-style rooms which are great for families and groups. Be sure to check online for their updated specials. This hotel is located near the Empire State Building and is within walking distance of Fifth Avenue shopping.
Located in the heart of Tribeca, The Cosmopolitan Hotel offers the traveler easy access to the subway, Wall Street, and a great historical neighborhood. This is a small hotel which has a nice, private atmosphere, so while it's one of New York's cheap hotels, it doesn't necessarily feel that way. Most rooms offer two double beds which can make the deal even better if you're traveling with more people. For those who want to experience downtown New York City a budget, this hotel is the place to stay.
As you can see, you don't have to spend a fortune to have a great vacation in New York City. These are just a few of the more budget-friendly hotels you can find. By doing a quick search on the internet, or talking with a travel agent, you can find a great place to stay. Traveling on a budget doesn't have to mean sacrificing quality and safety. These hotels offer the money-savvy traveler excellent options to the more expensive, and perhaps less charming, hotels in the City.
NYC Budget Hotels - Super List