New York Cheap Hotels - How to Find Great Deals at New York Hotels
Traveling to New York City can put a dent in your budget unless you know how to find deals on transportation, meals, and New York cheap hotels. Here are a few tips to help you find the best deals on cheap hotels that don't feel cheap.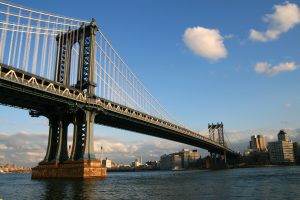 Check the Web
Travel sites galore are to be found all over the internet, offering both expensive and cheap hotels in New York. Generally speaking, these sites gather information on various hotels and post them on their sites. Some other sites will actually reserve rooms in bulk and then rent them at a discounted rate. Often, hotels are more interested in having a guest actually stay in their rooms than sit empty, so they will offer discounts for last-minute reservations. Several sites operate on this premise. In addition, sometimes by booking online you will get a discount as opposed to booking directly with the hotel. Investing some time on various travel sites is a good way to develop a sense of the deals available. Then, you can decide what will fit your budget, style, and expectations.
Be flexible
Waiting until the last minute to reserve your hotel room can lead to big savings. This is now the rule during these tough economic times and it is not as risky as it used to be during prosperous times. However, you need to check the calendar for any large events occurring in New York City on the dates you are traveling so you don't end up out in the cold because you tried to book your room at the last minute. That being said, many sites offer larger discounts to those who wait to book their rooms. Also, consider taking your trip in the "off season" instead of around major holidays or during peak times. Hotels want to fill their rooms every day of the year and generally offer better incentives during lower-traffic times of the year. Moreover, you don't necessarily need to stay at the Ritz Carlton during your trip. New York City abounds with all types of hotels, motels, hostels, and even dormitory-style places where you can stay. There are good hotel to fit most budgets and needs. If you are somewhat flexible and open to different options, you will find that "great deal."
Think "Package Deals"
If you are flying to New York City, consider looking for a package which also includes accommodations. Often you can obtain large discounts by bundling your travel needs together such as airfare and hotel or transportation and hotel. Again, you can find many of these deals on the internet and travel agents usually have information about types of packages available as well. This can make your New York hotel expense cheap, even if the hotel isn't.
Work your plan
Spend some time figuring out your travel budget before you begin to look for deals on hotels. Knowing exactly what you can spend will help you narrow down your search considerably. Sometimes, the number of travel sites, hotel sites, and informational sites can be overwhelming. Knowing the funds you want to spend will narrow your search parameters when you whether you look for a New York cheap hotel or more expensive one.
If money is not really a concern, you can make a list of the needs and/or wants for your hotel room. Do you need a specific location? Do you want a kitchenette? Do you want a spa in the hotel? Do you just want the cheapest thing available regardless of location? These are all questions to consider before you begin your search in order to find the hotel or motel to best suit your needs.
Finding a New York cheap hotel that provides good accommodations and a deal isn't difficult. By taking a few minutes of your time, you can save a few extra dollars which you can use to go to that fabulous restaurant that you heard so much about instead!
NYC Budget Hotels - Super List