Cheap Eats New York City - Street Food
NYC Street Food
If you are traveling to NYC on a budget and are worried about how much you will be spending on necessities such as food, read on and you will not only find these cheap eats are excellent deals on food.
Taking the time and culinary opportunity to experience these New York cheap eats can be an event unto themselves, giving you a chance to explore different parts of the city. Enjoy!
1.) Daisy Mae's BBQ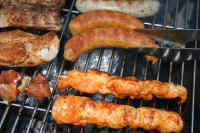 Featured in numerous magazines, on the Today Show and Oprah, this NYC restaurant offers a street food option. This food cart is located in Manhattan and offers great chili, BBQ, chicken and brisket sandwiches. Called "a taste of Texas on the sidewalks of Manhattan" by the NY Times. Expect to spend $6-9.
50th St. between 6th and 7th Ave.
2.) Tony Dragonas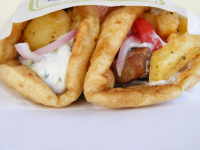 This cheap eats recommendation is a New York fixture. Tony Dragonas considers hawking and grilling street food an art. Upon stopping by his cart you will see why he has been around for 25+ years. Offers anything from hotdogs and hamburgers to grilled mozzarella sandwiches with prosciutto, grilled steak/rice platters, souvlaki and great kebabs. Big portions! Basics from $1.25, Fancy stuff around $7.00.
Located on the SW corner of 62nd and Madison
3.) The Mudtruck
The ultimate in New York street food: Amongst all of the NYC chains full of frappes, crepes, scones and anything other than black coffee, you will find this modest orange truck - The Mudtruck. Offering great, friendly service and a cup of bold, flavorful coffee for a buck. Not to worry if you can't live without your caf&eacute au lait, the Mudtruck does have milk on board and can make a latte. Pastries, muffins, and bagels can all be had for a fair price. Feel good about supporting a local vendor and skip the big lines.
Astor Place, 4th Ave. and 8th St.
4.) NY Dosas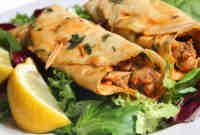 The "only Dosa cart in North America" has an all vegan menu (including the beverages) and is easy on the wallet. A Dosa is a South Indian crepe made of lentils and rice batter with a variety of spices. Offering other Indian foods such as samosas and idly, their fare is delicious, healthy and very filling. $1-5 for a filling lunch.
West 4th and Sullivan (Washington Square Park)
5.) Rolf's Hallo Berlin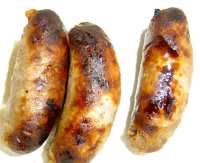 WURST!! Aka Sausage is the specialty here. Wienerwurst, Alpenwurst, Bockwurst, Knockwurst, Bratwurst, and Berliner Currywurst just to name a few. All of the "wursts" come on a crusty roll with all the fixins' (sauerkraut, red cabbage, onions, and homemade mustard). Offers German fries and potato salad, along with other sides. Not as quick as McDonalds, but is a sure to please (unless you are a vegetarian) unique street vendor. $1-9.
54th and 5th Ave.
6.) Kwik Meal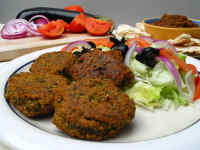 This is not your typical street chef or New York cheap eats offering. Mohammad Rahman is a veteran of the Russian Tea Room and operates his street business just like a big kitchen. Kwik Meal is know for it's delectable lamb sandwiches with out of sight yogurt sauce served on a puffy pita or over rice. The falafel has been touted the best in town and is served with tsatsiki instead of tahini. The smells of garlic, cumin and coriander will help you find this great NYC treat.
45th St. and 6th Ave.
7.) The Arepa Lady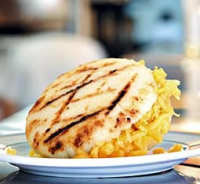 Colombian born former lawyer and judge, Maria Piedad Cano, is an unlikely candidate to run a street food cart, but she does it better than most and is called the "Sainted Arepa Lady." Her Colombian arepas are grilled until brown and crispy and will melt in your mouth. You can get the arepa de queso that is filled with gooey, melted cheese or the arepa de choclo is made with a different corn batter and folded over salty, grated cheese. Maria also offers sausages and arepitas (small arepas). $2-8.
Roosevelt near 78th St. in Jackson Heights