New York Mets 2009 Season Preview
Much like their cross-town rivals over in the South Bronx, the Mets come into this year looking to atone for last year's disappointment. They too have an expensive, brand-new, luxurious ballpark, while new pitchers have been added to their staff as well.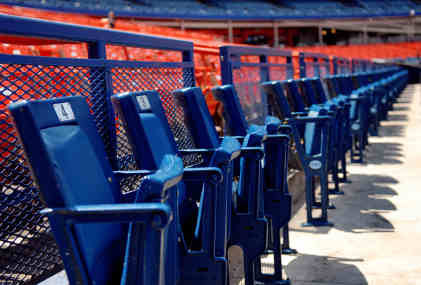 Improved Bullpen
Faced with the prospectus of enduring another year where the bullpen failed miserably, New York went out and got record-setting closer Francisco Rodriguez and 2007 All-Star reliever JJ Putz. Those two should dramatically improve a bullpen that blew 29 saves last season. Hard-throwing Bobby Parnell shapes up as another solid setup guy and should be an asset here as well.
While the relief corps should be a strength this year, the starting rotation does have some question marks that might be problematic as the year wears on.
Starters
Two-time Cy Young award winner Johan Santana is the ace of the staff and is one of the most dominating pitchers in the league. In his first season pitching in the National League, his 2.53 ERA not only led the majors, but was a personal best for him as well. After the All-Star break, he was particularly tough to hit as he posted a sub 2.20 earned run average.
After Santana, here's where it gets a bit dicey. Mike Pelfrey and John Maine are expected to be the second and third arms in the rotation. Pelfrey is promising, but he is still young and unproven, while Maine is coming off shoulder surgery and did not have a great spring. The fourth starter, Oliver Perez, is even more questionable as the southpaw is wildly inconsistent and posted an ERA close to 10 in the World Baseball Classic. (Which brings up an interesting note, the Mets had a Major League-high 16 players participate in the WBC this past off-season, which may not be such a great thing as the season wears on.) After New York decided not to pursue Pedro Martinez and newcomer Tim Redding was placed on the disabled list, Livan Hernandez was decided upon to be the team's fifth starter. Hernandez has now been with 4 different clubs in the past couple of seasons while he led all of baseball in home runs allowed 2 years ago.
Helpful Home
The dynamics of Citi Field may prove to be helpful to the staff as so far, it has been deemed a "pitcher's park" with many hard-hit balls that seemingly would go for extra bases at Shea, have been just long fly outs in the new digs.
Big Wood
Offensively, the Mets had no problems plating runs last season as they finished 2nd in the National League behind Chicago, with 799 runs scored.
The heart of the lineup features 3 hitters all very capable of putting up big numbers offensively. Batting third will be Gold Glove centerfielder Carlos Beltran, who has averaged 33 home runs, 113 RBIs, and a .277 batting average the last 3 years. Some consider Beltran to be the best defensive centerfielder in the league and his 3 straight Gold Gloves there make for a strong argument for that title.
Cleanup hitter and playing first base is the aging Carlos Delgado. The Mets are expecting him to continue his hitting spree from the 2nd half of last season when he hit 30 home runs from June on. It should be noted though that Delgado is going to be 38 years old before the season is even half way over with this year.
At third base is another Gold Glover, 3-time All-Star David Wright, who can hit for both power, with back-to-back years of 30+ homeruns, and for average, where he has 4 straight seasons of a .300 or higher batting average.
Setup Bats
Speedy Jose Reyes will be at shortstop and will be the leadoff man again. He has been known to raise the ire of opposing players and fans by sometimes crossing the line with his "exuberance". His partner at second base will be Luis Castillo, who came to camp lighter, healthy, and eager to put his personal nightmare season behind him. Castillo had problems with injuries and his batting averaged dipped below .250, while his fielding was awful.
Alongside Beltran in the outfield will be Daniel Murphy out in left. Manager Jerry Manuel likes the young, contact-hitter and will bat Murphy second, utilizing his bat skills behind Reyes.
In right field, Ryan Church is anticipated to produce the type of numbers he put up prior to battling multiple head injuries. Church hit 12 homers in 2008, but 9 of them came before May 20th when he sustained his second concussion in just a couple of months.
Catcher
Behind the plate is serviceable Brian Schneider. The Mets would like to get more offense out of this position and it was rumored that they were shopping for another catcher. Schneider has never had more than 55 RBIs in any season while he is a career .253- hitter.
Reserves
On the bench is 2008 National League Comeback Player of the Year Fernando Tatis who can hit for power and play multiple positions. Also providing a potential big bat, but also a lot of age is Gary Sheffield who will look to spell Church in the outfield, although, Sheffield has not played regularly in the field since 2007.
Outlook
Given the overall make-up of this team, the Mets should be successful in their quest to erase the bad memories of how their seasons have ended the past 2 years. If the starting pitchers behind Santana step up, then this club has enough offense, and now, the relief corps to overtake Philadelphia in the National League East.
-Lenny Moretti for AllNY.com