New York Yankees 2009 Season Preview
Just for Openers
With a gigantic payroll and several pricey acquisitions, a new palace to call home, plus the seemingly usual soap-opera atmosphere, the 2009 edition of the New York Yankees will look to return to postseason play after missing the playoffs for the first time since 1993.
In arguably the toughest division in baseball, the Bombers will contend with Boston and Tampa Bay for the top spot in the American League East. All 3 teams have the capabilities at topping 90 wins, boasting formidable lineups loaded with top-notch personnel. Throughout the season, it should be no surprise to see these clubs jockeying back and forth in what should basically be interchangeable positions from 1st to 3rd in this division.
For the Yankees, they spent $423 million on free-agents Mark Teixeira, CC Sabathia, and AJ Burnett in an effort to improve off of last season's disappointing effort.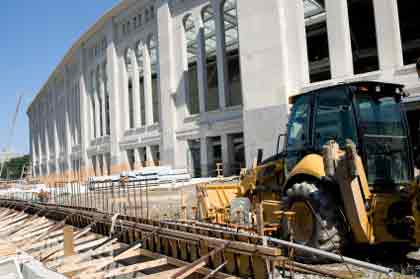 Pitching
The strengths of the club should begin with their pitching, in particular, the starting staff. With a 5-deep rotation of Sabathia at number 1, followed by a healthy Chien-Ming Wang, and then Burnett, with Andy Pettitte and Joba Chamberlain afterwards, this is a very strong group of starters. Wang and his sinkerball, between 2 power pitchers should be particularly effective, as the two-time 19-game winner looks to rebound from last year's injury-shortened year.
Out of the bullpen, ageless closer Mariano Rivera still remains one of the league's premier relievers, coming off of a season in which he converted 39 of 40 save opportunities. However, there are questions here, with how the 39-year old maintains his dominance after having shoulder surgery in the off-season.
Also of issue may be who will be Rivera's setup man in middle relief, now that Chamberlain is penciled in as a starter. A slimmed-down and newly energized Brian Bruney appears to be the best bet in this role while southpaws Damaso Marte and Phil Coke should also be in the mix.
Behind the Plate
Jorge Posada returns at catcher after missing the better part of the summer last year due to having labrum surgery. How he throws and how well that right shoulder holds up throughout the year also becomes a concern as Posada is 38 years old.
Infield
Alex Rodriguez is now being projected to return in late April. And if fully healthy, the Yankees will welcome his bat and his presence back into their lineup. But his return also signals that the carnival surrounding Rodriguez comes back as well. How he and the rest of the Yankees handle those distractions become an added worry.
At shortstop and second base, defensively, the Yankees are really quite ordinary here with Derek Jeter and Robinson Cano. Moving Jeter to leadoff is a smart move offensively while Cano needs to have a return to the year he had in 2006 when he finished third in the American League in batting average.
Solidifying the infield will be Gold-Glove and prized free agent acquisition, Mark Teixeira. He comes to the Yankees averaging 34 home runs and 113 RBIs, plus a .290 batting average over the past 6 seasons. Teixeira is a huge upgrade in both bat and glove over the departed Jason Giambi. While to date, in interviews and promos, he has handled being in the spotlight and every challenge the New York media has thrown his way.
Outfield
In the outfield, Brett Gardner has a wonderful glove in centerfield, but he is also a career .228 hitter. Leftfielder Johnny Damon is another of the key Yankees in his middle to late thirties. Batting second behind Jeter and in front of Teixeira should prove to be most beneficial to Damon. Xavier Nady and his 25 home runs from last year, sets up in right field. Nady also had 97 RBIs and a .510 slugging percentage.
DH and Bench
At designated hitter is bad-kneed Hidecki Matsui who is still a very decent run-producer, and his presence adds yet another big bat to the Yankees offense. Coming over in a trade from the Chicago White Sox is switch-hitter Nick Swisher, who was supposed to be the Yankees first baseman before they signed Teixeira. Swisher will provide power and depth both at first base, the outfield and at DH. Cody Ransom will be the starter at third base until Rodriguez returns from his hip surgery.
Outlook
There is no doubt that this club should have an explosive offense and a most stellar starting rotation. The bullpen may be a non-issue if the young arms come thru and Rivera has no lingering affects from surgery. The defense might be cause for concern, as is the age of many of their integral pieces, (4 starters and 2 key pitchers are 35 years old or older). Still, Manager Joe Girardi's club has enough weapons to contend for the division crown, not to mention, the American League pennant and put up 90+ wins in the process.
-Lenny Moretti for AllNY.com