This month, New York City meets old school Bavaria for another round of annual Oktoberfest celebrations.  German restaurants and bars are showing off their heritage with a bevy of events, live music and plenty of beer and schnitzel to spare:
Zum Schneider:
This Alphabet City gem of Bavarian bliss is offering a full-blown mix of both traditional and modern day fun in its beer garden through October 9.  From its enormous list of classic German brews to its pop-polka band concert venues, this is the place to go for a real Oktoberfest experience.  Be sure to bring your wallet, because this cash-only biergarten supplies a full assortment of schnitzel, sausage and the like.   The Award-Winning Traunsteiner Helles beer is a must-try, but plenty of other flavors will be on tap as well.  Menus, photos, and contact information can be found at: www.zumschneider.com
107 Ave C @ East 7th Street, 212.598.1098
It's Oktoberfest all year long at this bier hall and biergarten in Williamsburg.  Always at the top of the game when it comes to German cuisine, there are also special Oktoberfest menus including spaetzle, schnitzel and strudel can be accompanied with a large beer list extending beyond German classics to include Czech, Italian and others.   No reservations are necessary for this authentic beer garden experience.  www.radegasthall.com
113 N 3rd Street, Williamsburg, Brooklyn, 718.963.3973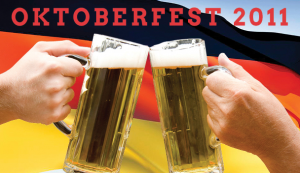 The Beer Bar at Café Centro:
Located in the MetLife Building on Park Ave and East 45th St, a special menu of Bavarian classics will be served through October 14.  The best of German draft and bottled beers, as well as their sausage, bratwurst and schnitzel counterparts are available.  The Post Road Pumpkin Ale is strongly recommended as the featured fall brew of choice.  To view menus and order event tickets go to: www.patinagroup.com
200 Park Ave. at E. 45th Street, Phone: 212.818.1222
View the famous ice skating rink and grab a stein on October 11at restaurant Rock Center Café in Rockefeller Center at their exclusive Oktoberfest Beer Dinner.  The feast includes a four-course selection of traditional specialties and seasonal brews.  The cost for this event is $58/person, and begins at 6:30pm. 
20 West 50th Street, 212.332.7620
Bohemian Hall and Beer Garden:
This famed beer garden of Astoria is known as the city's original Oktoberfest locale.  Since 1910, the Bohemian Hall and Beer Garden has been a part of NYC history and is a must for food and festival fun.  Through October 9, an extensive program of events will be taking place including free beer tastings and $13 pitchers of Europe's finest as well as live German-American dance music and special dining menus.  For a full list of events and hours, look at: www.bohemianhall.com
29-19 24th Avenue, Astoria, New York 11102 Phone: 718.274.4925
The Das Best Oktoberfest tour is coming to New York on Saturday, October 22 bringing in an all out 'oompah' of beer, food and music bliss.  Two sessions are available, with all-you-care-to-taste drinks and delicious food samplers.  Located at La Venue and The Tunnel, tickets are $65 in advance, and $80 at the door.  Admission includes all "bites," live entertainment and a souvenir tasting mug.  All guests must be 21 years or over, and those who are bold enough to wear traditional German attire receive a complimentary gift.  Tickets available at: www.nyoctoberfest.com
608 West 28th Street, 800.830.3976