The U.S. Tennis Open: What You Need to Know And How to Enjoy It
The US Tennis Open Tournament begins the last week of August in Flushing Meadow, Queens. It is without question the biggest grand slam tournament in the world.
While Wimbledon has great tradition and prestige, the U.S. Tennis Open is the greatest spectacle and the most energy filled tennis event in the world.
Glamour, glitz and glory...are what the U.S. Open is about. Tennis enthusiasts, from all over the U.S. and all over the world, come to see their favorite players compete in New York City. And Over two weeks, the U.S. Open brings in more revenue for New York City than any other sporting event does for the entire year.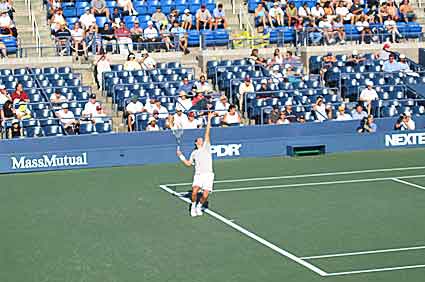 For tennis players, the U.S. Tennis Open cannot be beaten. They come to Flushing for two weeks of grinding, tough tennis played on concrete courts under often challenging weather conditions. During the first week, there will be many casualties and many players will be the victims of injuries that will take them out of the tournament. At the end of two weeks, the winner will be unquestionably the number one tennis player in the world.
For tennis enthusiasts buying tickets to the U.S. Tennis Open can also be a challenge. Acquiring tickets for the event can almost be described as an art form. Buying tennis tickets online can be expensive, but it's worth checking this option to see if you can get a deal. A better choice may be to buy the tickets at the USTA Billie Jean King National Tennis Center Box Office (Monday - Friday 9 am - 5 pm, Saturday 10 am - 4 pm).
For transportation & directions to the USTA Billie Jean King National Tennis Center Box Office, click here
Credit card, cash, certified check or money orders (no personal checks) are accepted at the USTA Billie Jean King National Tennis Center Box Office. Mail orders for individual sessions will not be accepted. Each order placed through Ticketmaster is subject to Ticketmaster service fee and handling charge.
A day Session ticket provides an assigned seat in Arthur Ashe Stadium along with first-come, first-served access to Louis Armstrong Stadium, the Grandstand and all of the field courts. Evening Session ticket provides an assigned seat in Arthur Ashe Stadium.
| | | |
| --- | --- | --- |
| Date | Day Price (per ticket) | Evening Price (per ticket) |
| Mon 8/25, Tues 8/26, Wed 8/26 | $52 | $22 |
| Thurs 8/28, Fri 8/29, Sat 8/30, Sun 8/31, Mon 9/1 | $60 | $40 |
| Tues 9/2 | $48 | $54 |
| Wed 9/3, Thurs 9/4 | $48 | $64 |
| Friday, 9/5 | $78 | N/A |
| Saturday, 9/6 | $80 | $80 |
| Sunday, 9/7 | $80 | N/A |
The best advice is not to hesitate and to get your tickets as soon as possible. Regardless of the seats that you can buy, there are many interesting matches which you can watch on the outside courts adjacent to the stadiums. For more information, you can visit the official U. S. Tennis Open website www.usopen.org or look for a deal here.
Travelling to the U.S. Open is also a challenge. Driving is not recommended because parking space is limited and parking costs will vary. There are handicapped spaces, but they have been moved away from the site and a free bus must be taken to get to stadiums.
The subway is the recommended way to travel for most people. It is probably the quickest way to get to the U.S. Open. The Flushing line (7 Train) of the NYC subway system is usually air conditioned. Take the 7 train to the Willets Pt - Shea Stadium stop. When you arrive, there will be a short (3 minute) walk to get the entrance.
If you are travelling from Long Island, the Port Washington branch provides service to Shea Stadium and the USTA Billie Jean King National Tennis Center. Call (718)-217-5477 for details.
Once you have cleared the security check points, you will find a wide variety of vendors selling Tennis clothes and equipment. Most importantly though, there is a great food court where you can enjoy a wide variety of food choices. You can sit comfortably in the food court and watch the Tennis matches in the stadium projected on a huge flat screen facing the food court. For those who require more upscale dining experiences, there are also several restaurants available.
It is safe to say that U.S. Tennis Open is a worthwhile experience that you will savor and remember for a long time. You will see your favorite tennis players and possibly get their autographs. You will participate in some of the thrilling twists and turns of the tournament. You will rub shoulders with other tennis enthusiasts and fanatical tennis players, and you will have experienced close up the spectacle and the spectacular U.S. Tennis Open 2008.
--Bill Rico for AllNY.com
Resources