Have you procrastinated about Thanksgiving dinner?  If you'd prefer a "Friendsgiving" or just another way to avoid the family stress that usually surrounds this November family get-together, there are many ways to re-locate your dinner to a more neutral and possibly more delightful location.
Here are some of my favorite restaurants in New York City that are offering fantastic turkey dinners: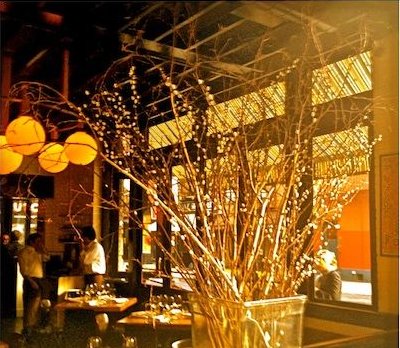 Andrew Carmellini's popular SoHo restaurant is offering a prix fixe dinner for $95 per person ($50 for kids 12 and under).  Served family-style, the main course selection includes a typical spread of Thanksgiving treats. Roasted turkey with chestnuts and oyster mushrooms; mashed potatoes and gravy; Brussels sprouts with bacon, horseradish, and pickled mustard seeds; spoon-bread stuffing with andouille sausage and green peppers; spaghetti squash; and cranberry-orange sauce will make sure you don't miss mom's cooking. A choice of appetizers ranges from oysters to salads, steak tartare, soup, and pasta.  Nostalgic about keeping tradition?  Have the apple pie or pecan pie for dessert.  Or venture into more exotic turf with a pumpkin donut or devil's food cake. Tax and gratuity, not included. 212-677-6200, 131 Sullivan Street, Manhattan. www.thedutchnyc.com .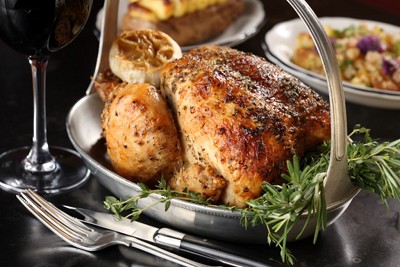 While you may be tired of turkey, this is the place to have it as Georgette Farkas's rotisserie preparations are the standouts.  It's also truffle season, so many of the dishes have optional truffle supplements. The three-course menu is prix fixe at $84 per person (kids are $40 per person) and includes a choice of chestnut soup, pate, or two salads to start; your entrée (roasted turkey with all the fixins, chicken for two with black truffle stuffing and black truffle pureed potatoes for a $45 per person supplement, prime rib, branzino, or farro for the vegetarians).  Desserts are variations on the traditional like a pumpkin mousseline torte with gingersnap crust, or a non-traditional chocolate pot de crème.  Sides like sweet potatoes with spiced marshmallow crumb crust, or turkey sausage with black truffle stuffing are extra as are tax and gratuity. 212-390-8060, 14 East 60th Street, Manhattan. www.rotisserieg.com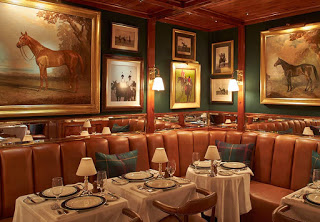 Thanksgiving might be the time to score a reservation at this not-quite-a-club, impossible-to-get-into restaurant.  The hotspot from Ralph Lauren is strong on Lauren's holiday favorites including butternut squash soup, roasted turkey, mashed potatoes and stuffing with pork sauce.  Drinks are included, from a Champagne toast to cider, with nuts and olives on the side. Dress your equestrian best and enjoy the setting.  It's yours on Thanksgiving for $150 per person, tax and gratuity extra. 212-207-8562, 1 East 55th Street, Manhattan. www.polobarralphlauren.com.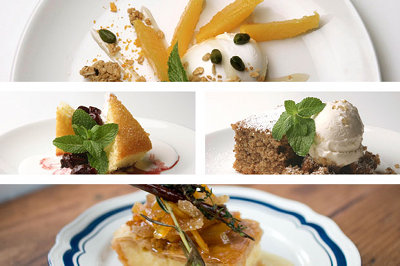 How about a Greek Thanksgiving?  Two prix fixe offerings from $35 to $95 include appetizer, entrée and dessert.  To maintain the Thanksgiving spirit, Michael Psilakis starts you with something turkey, here a turkey abgolemono soup that's a riff on Greek egg lemon soup. Follow that with roasted turkey, done pretty traditionally with mashed potatoes, mixed vegetables and gravy, and finished with a choice of two traditional Greek desserts, walnut cake with walnut ice cream, or yogurt with nuts and fruit.  212-873-0200, 505 Columbus Ave, Manhattan. Taxes, gratuity extra. www.kefirestaurant.com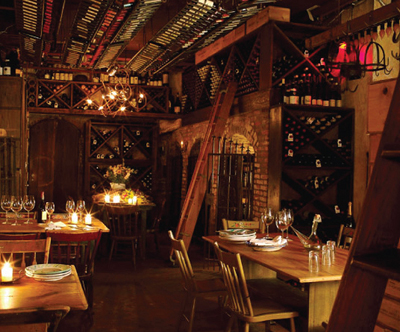 If an Italian celebration is more to your liking, Il Buco's sibling restaurant offers a cozy setting for Thanksgiving dinner. Sit at one of the rustic communal tables and enjoy a multi-course dinner for $85 per person.  A selection of salumi or cheeses is served family-style to start.  Also served family-style are the sides — sweet potatoes , kale and quinoa, and buckwheat stuffing with figs and sage — and desserts, chocolate tarte, roasted pears with rosemary caramel, and persimmon soufflé cake. You pick your own starter – black bass crudo, vegetable soup, or chestnut angolotti – and your own main, baccala in a spicy tomato ragout with clams, rotisserie-roasted heritage pork, or Hudson Valley turkey with caramelized endive and apple. Tax and gratuity are additional. 212-837-2622, 53 Great Jones Street, Manhattan, www.ibucovineria.com.