It's beginning to look a lot like Christmas, although it feels like the Fourth of July. Did we skip Thanksgiving? It's so confusing, but at least we have the time to start our holiday shopping (Christmas, Black Friday) without wearing a winter coat or heavy boots.  And you can also get your holiday inspiration going by visiting the New York Hall of Science starting November 13 to see what might just be the world's largest gingerbread village. Again.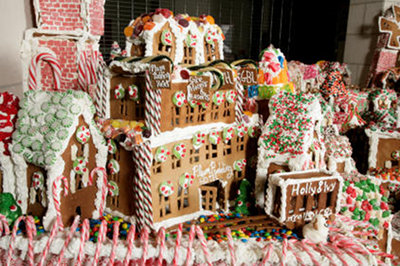 Jon Lovitch, master chef and creator of GingerBread Lane, has achieved the Guinness World Record for the past two years for building the largest continuous gingerbread village in the world. While others have contended that theirs might be larger, GingerBread Lane has been the winner hands down, meeting all criteria: only edible ingredients, handmade craft, and contiguous structures.
Last year's village was laid out in a circle, allowing a complete circumlocution around the village. This year's version promises to be even more creative, covering 500  square with more than 1050 houses, a double-decker carousel (like the historic one on the Coney Island boardwalk), and the S.C. Kringle & Co. Department Store reminiscent of New York City's own long-departed Gimbels of the 1900s.  Also new will be a candy factory you can see inside of as you climb the stairs to view the exhibit.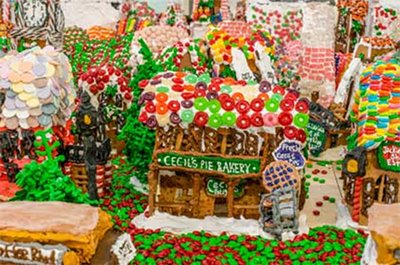 The exhibit runs from November 13-January 10, 2016.  On the last day at 1pm, all gingerbread houses are given away free.  The line starts early, sort of like getting into a Rolling Stones concert.  Kids unable to visit due to illness or other personal situations can contact info@gingerbread-lane.org to have a house shipped to them. www.gingerbread-lane.org.
New York Hall of Science, Flushing Meadows Corona Park, 47-01 111th Street, Queens; www.nysci.org.